The end of World War II had brought thousands of young servicemen back to America to pick up their lives and start new families in new homes with new jobs. With an energy never before experienced, Americans began buying goods not available during the war.
The 1950s marked the official start of the "Space Age." At White Sands, New Mexico, in Huntsville, Alabama, and at Cape Canaveral, Florida, American rocket scientists worked sleeplessly to design and perfect launch vehicles.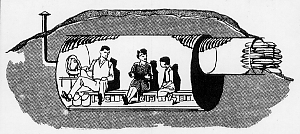 The 50's were the time when the shape of the political landscape in the world could be clearly defined between the Soviet dominated East and the capitalist West. With the creation of the new State of Israel there were many conflicts in the middle east which are still occurring to this day.
The cold war became a grim reality because both sides had the power and technology for a Nuclear holocaust, but equally both knew any war could not truly be won. America had just begun her recovery from World War II, when suddenly the Korean Conflict developed. The USSR became a major enemy in the Cold War.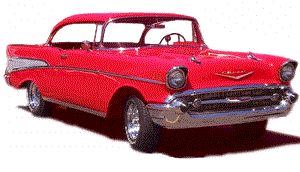 The word Teenager was created in the 1950's due to the tremendous population of those in this age category and because teenagers started gaining more independence and freedoms.
Teenagers were able to buy more things like food, clothes and music because of an increase in spending money. Popular dances of the 1950's included bop, stroll( line dance), swing, hully gully, peppermint, twist, mashed potato, the pony, swim, bunny hop. Popular artists included Bill Haley, Elvis Presley, Jerry Lee Lewis, Paul Anka, Chuck Berry, Bo Diddley, Buddy Holly, Little Richard, Nat King Cole, Frank Sinatra, Perry Como and Dinah Shore.
Poodle skirts made of felt and decorated with sequins and poodle appliques were popular. Girls wore pony tails and flat tops and crew cuts for guys. Saddle shoes and blue suede loafers were popular. First dating was usually at school dances. Some boys and girls were going steady, which meant you wore the boys ring or a special necklace such as a heart around your neck. Fifties clothing was conservative. Men wore gray flannel suits and women wore dresses with pinched in waists and high heels.
Perhaps one of the things which most characterizes the 1950's was the strong element of conservatism and anticommunist feeling which ran throughout much of society. One of the best indicators of the conservative Republican frame of mind was the addition of the phrase "under God" to the Pledge of Allegiance. There is a now a growing movement to remove it.

During the 1950's, television became the dominant mass media as people brought television into their homes in greater numbers of hours per week than ever before. In the early fifties, young people watched TV more hours than they went to school, a trend which has not changed greatly since that time.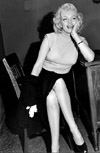 Westerns were getting bigger in the 1950s, with films like High Noon starring Gary Cooper, and Cheyenne with Clint Walker, wrangling moviegoers back to the time of outlaws and wild shoot-outs. There was no shortage of war movies: Musicals including Singing in the Rain and An American in Paris with Gene Kelly were released and White Christmas starring Bing Crosby. Animated films included Walt Disney's Cinderella and Alice in Wonderland.
Beatniks, a culture of teenage and young adults who were seen as rebels and against the social norms, were popularized towards the end of the decade and criticised by older generations.