Most of cars on this page sold for around $1,700 - $2,300 in the fifties. The 1950s cars became lower, longer, and wider. The early 1950s saw the rise of chrome on cars, as an increasingly opulent society flourished in the United States. The long pent up demand for cars caused by the Depression and World War II exploded into an irrational excess in the decade of the '50's.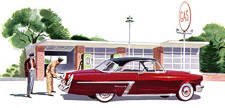 Having an automobile was really a success during the1950s. With the automobiles, it was easier for the parents to find the jobs with better pays, and shorter hours. Also they would use the car to get themselves to their jobs, get their children to school and vacations.
Do you remember when all gas stations had a service attendant?