The sixties were the age of youth, as 70 million children from the post-war baby boom became teenagers and young adults. Youth predominated the culture of the 1960's.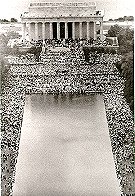 The movement away from the conservative fifties continued. The changes began in the Haight-Ashbury section of San Francisco and spread across the USA affected education, values, lifestyles, laws, and entertainment.
The Civil Rights movement made great changes in society in the 1960's. Sweeping reforms on all levels, from civil rights to education to a "war on poverty," would make the United States a "great society."
The 60's were a decade dominated by the Vietnam War, not a world war but the effects were still felt throughout the world. Young adults reaching military draft age caused a struggle which played out on many campuses as the country became more involved in the war. Anti-war rallies and demonstrations were held all across the country.
California surfers took to skateboards as a way to stay fit out of season, and by 1963, the fad had spread across the country. By mid-decade, miniskirts or hot pants, often worn with go-go boots, were revealing legs, and bodywear was revealing curves. Beehive hair styles were in, stretch slacks, pillbox hats, mini-skirts and bell-bottoms provided the mod & hippie looks. The Smiley Face was found on anything and everything around the world including T Shirts.
This migration to the suburbs continued and many inner-city areas were just a shadow of their former selves. Major retailers followed with huge shopping centers. New suburban homes had spaces that were designed especially for the family. Owning your own ranch or split-level home in the suburbs brought new trends with TV antennas mounted on the roof, garages for ever bigger cars, dens, family rooms, rec-rooms and large backyards with patios.

Posters were popular as an inexpensive way for young people to decorate their rooms and express themselves at the same time. The colorful creations of Peter Max could be found on posters, clocks, scarves, throw pillows, and all sorts of decorative items.
There were many new musicals, including Camelot, Hello Dolly, Oliver, Man of La Mancha, Hair, and Funny Girl. Movies included Sound of Music, My Fair Lady, 101 Dalmatians, Pinocchio and Dr. Strangelove.
Sex became more explicit, and occasionally nontraditional, as in Midnight Cowboy, Bob and Carol and Ted and Alice, and The Graduate. There were six James Bond Movies and "Gidget" made it cool for girls to ride the waves on a surfboard. Lots of beach party movies made us wish we could have an endless summer, too. Drive-in theaters were popular as a great place to park with your girlfriend.
Television popular shows included Bewitched, The Adams Family, My Favorite Martian, I Dream of Jeannie, Star Trek, the Outer Limits, and the Twilight Zone.
John F. Kennedy was young and charismatic, and his brief reign as president was often called Camelot. He was assassinated by Lee Harvey Oswald in 1963.

Slot cars overtook toy trains in popularity. In 1960, Ohio Art launched the toy for the holiday season with the name of "Etch A Sketch." Klackers, Click Clacks, Klappers, and Klik Klaks were two acrylic balls, usually about 1.5" in diameter connected with a string. The Pan Am Dual Control Jet Cockpit - Remco 1969 - allowed pilot & co-pilot to both "fly" and they could communicate through the two headsets. The toy also featured neat engine sounds.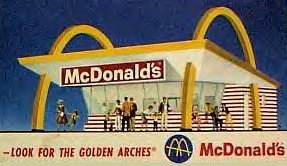 Most fast-food places were still drive-ins, but Colonel Sanders already had over 600 restaurants selling his Kentucky Fried Chicken.
America's eating habits were in for a big changes, life was good, and change was everywhere.